HIT ARTIST AND SONGWRITER TERRY McBRIDE SIGNS WITH ARTISTLIVE AGENCY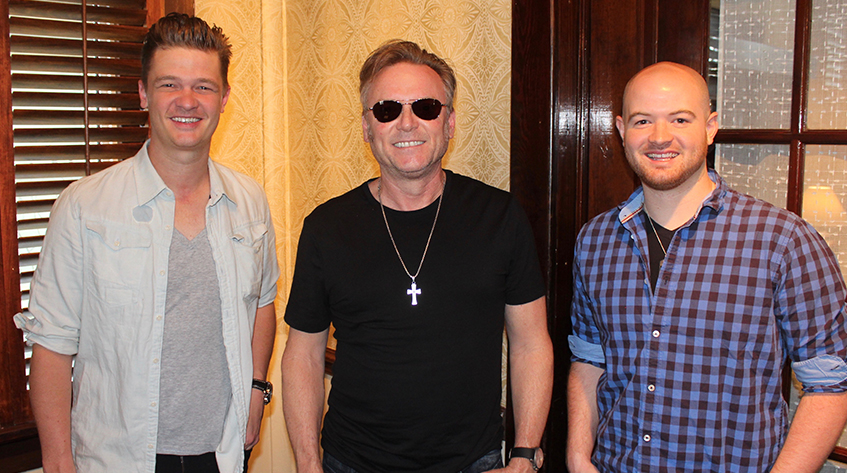 Terry McBride signs with ArtistLive Agency in Nashville for domestic and international booking. Pictured L to R President of ArtistLive Agency Deric Brown, Terry McBride, and Tayler Bock of ArtistLive Agency.
NASHVILLE – Terry McBride, the former frontman for iconic '90s country group McBride & the Ride and prolific songwriter with almost 30 cuts by Brooks & Dunn alone, has signed with talent agency ArtistLive in Nashville for domestic and international booking.
"It's an honor to work with such a great artist and we are excited to put his show on the road so the fans can hear this new music," said Deric Brown, president of ArtistLive.
McBride is back after a 20-year hiatus with a solo project, Hotels & Highways, which was released in February by MV2 Entertainment.
"I loved Deric and Tayler Bock's approach to finding unique performance opportunities for me and I am thrilled with their passion for my music," said McBride. "With their help, I'm gonna be seeing a lot more of those hotels and highways!"
Born on the outskirts of Austin and grounded in the Texas songwriter tradition, McBride was groomed by musical innovators Lee Roy Parnell, Jimmy Dale Gilmore, Rosie Flores, and Delbert McClinton. He had a successful career with McBride & the Ride in the early '90s before stepping back to hone his gift as a songwriter.
In the past two decades, he has penned songs for a who's who in the format from Country Music Hall of Fame members Garth Brooks, Reba, Kenny Rogers, and George Strait to artists who are destined for the Hall including Alan Jackson, who will be formerly inducted later this year, and Brooks & Dunn, including the record-breaking duo's last No. 1 "Play Something Country."
An able storyteller with a contemporary perspective, McBride co-wrote every cut on Hotels & Highways.
Established in 2009, ArtistLive is a full-service talent agency based in Nashville, serving the touring needs of a successful roster of primarily country artists. In addition, ArtistLive works closely with state and county fairs, festivals, casinos, and promoters, supplying talent and production services for events nationwide.