Dec. 17, 2020
FOR IMMEDIATE RELEASE
RELIVE THE MONKEES' HEY-HEY-DAYS WITH PARADE AND THE
CREATIVE TEAM BEHIND THE POSTHUMOUS RELEASE OF
DAVY JONES' ACCLAIMED HOLIDAY RECORD,
IT'S CHRISTMAS TIME ONCE MORE
Live Stream Starts at 7:30 PM/CT TODAY on the Parade Facebook Page and Features Monkee Micky Dolenz, Studio Doyenne Coco Dolenz, Producer Chip Douglas, and Rock Photographer Henry Diltz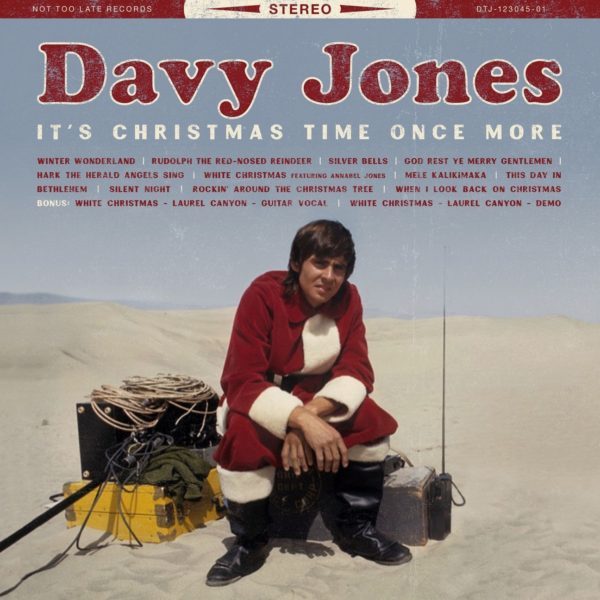 Download Image
Photo Credit: Henry Diltz
NASHVILLE, TN – Relive The Monkees' Hey-Hey-days with Parade.com and the creative team behind The Monkees and the posthumous release of Davy Jones' acclaimed holiday record, It's Christmas Time Once More at 7:30 PM/CT TODAY on the Parade Facebook page. Parade.com is the premiere digital brand of Parade Media, which develops and distributes premium content across digital, mobile, video, and print platforms.
The online event features Monkee Micky Dolenz, studio doyenne Coco Dolenz, noted producer Chip Douglas, and legendary rock photographer Henry Diltz, who were all present for the meteoric rise of The Monkees in the late 1960s, when the TV series won an Emmy and the band charted four No. 1 albums. The creative team reunited for the Nov. 13 release of Jones' Christmas record, which has been called "wistful and blissed out" by Associated Press. Listen HERE.
Douglas recorded the original versions of these Christmas classics with Jones when they were released in 1991 on cassette tape as It's Christmas Time Again and he reimagined them for a contemporary, global audience with fresh versions of 11 cuts and two bonus tracks with background vocals provided by the Dolenz siblings, Diltz, Jones' youngest daughter Annabel Jones, and others.
Response has been overwhelmingly positive with international and domestic coverage including "Today Extra" in Australia, BBC, People, Rolling Stone, ABC News, Chicago Sun Times, Arkansas Democrat, St. Louis Post Dispatch, and No Depression, which added the record to its list of "Christmas Music that Doesn't Suck" stating that Douglas, "has given us a Christmas gift with the 13 tunes remixed and enhanced for a new generation."
The record was inspired by a 1967 demo of "White Christmas" with Douglas on guitar and Jones singing in the basement of Douglas' Laurel Canyon home during the area's artistic emergence. The original demo and guitar vocals are included as bonus tracks on It's Christmas Time Once More. Douglas produced Jones' smash "Daydream Believer" (32 million YouTube views), as well as The Monkees' third studio album, Headquarters, which featured the band playing their own music for the first time.
Diltz, who was a member of the Modern Folk Quartet with Douglas, sat in on those early sessions. He went on to become a lauded rock photographer with more than 200 album covers to his credit including the cover of It's Christmas Time Once More with Jones in a Santa suit resting on a pile of gear in the desert. The picture was taken in the '60s during the taping of a Kool-Aid commercial. Diltz also contributed a rare image of Jones taken June 9, 1967 during sound check at the Hollywood Bowl in Los Angeles for a 285-piece puzzle available at Jones' online store. See it HERE.
About Davy Jones: Born on Dec. 30, 1945 in Openshaw, Manchester, England, David Thomas "Davy" Jones rose to international stardom on the 1966 Emmy Award-winning television classic "The Monkees," which spawned four No. 1 albums. Tony-nominated for his role as The Artful Dodger in the original London and Broadway productions of Oliver!, Jones was a frequent TV, film, and stage actor. After The Monkees disbanded in 1971, Jones launched a solo career that spanned decades as a recording and touring artist, music executive, equestrian, motivational speaker, author, and humanitarian. In 2008, he was named the No. 1 Teen Idol of All Time by Yahoo! Music securing his place in pop culture history as well as the hearts of his ever-growing global fan base.
It's Christmas Time Once More Track Listing:
Winter Wonderland
Rudolph the Red-Nosed Reindeer
Silver Bells
God Rest Ye Merry Gentlemen
Hark The Herald Angels Sing
White Christmas featuring Annabel Jones
Mele Kalikimaka
This Day In Bethlehem
Silent Night
Rockin' Around The Christmas Tree
When I Look Back On Christmas
Bonus Tracks:
White Christmas – Laurel Canyon – Guitar Vocal
White Christmas – Laurel Canyon – Demo
-30-
Media Contact:
Wendy Pearl
Wendy Pearl Public Relations
wendy@wendypearlpr.com